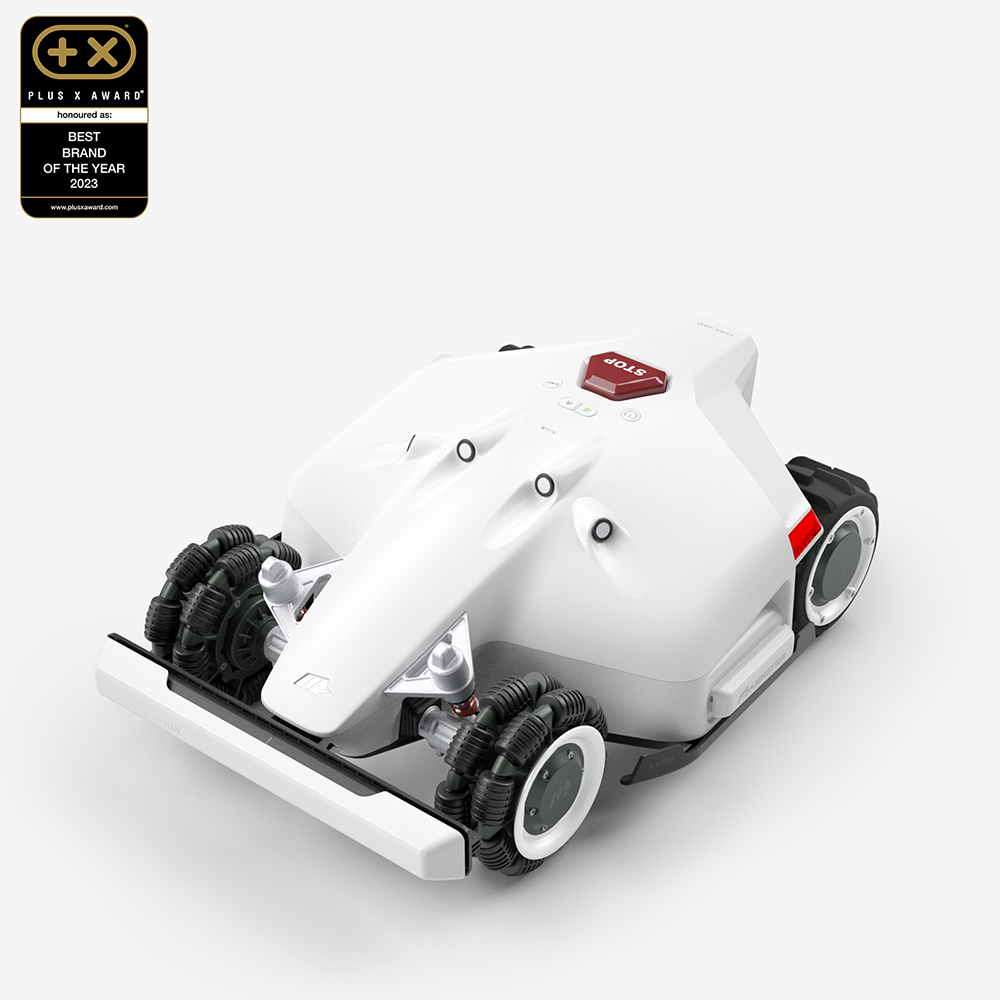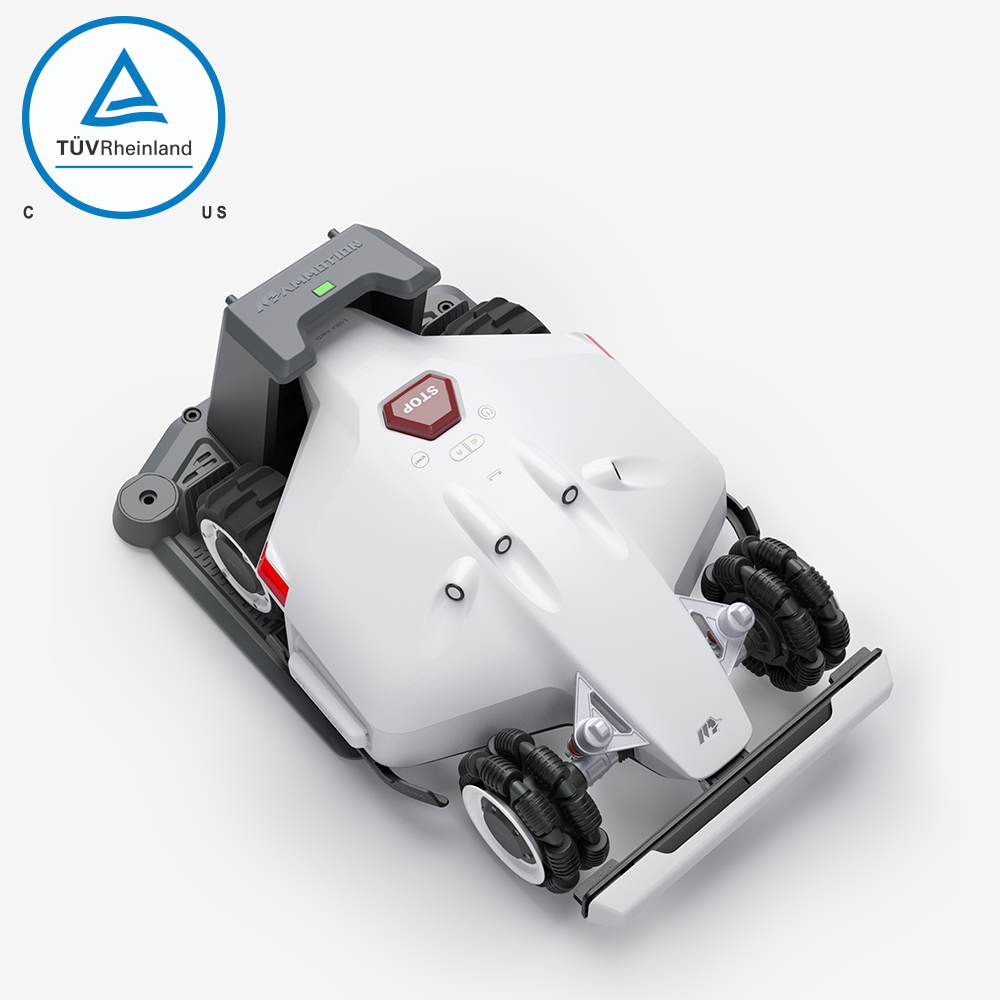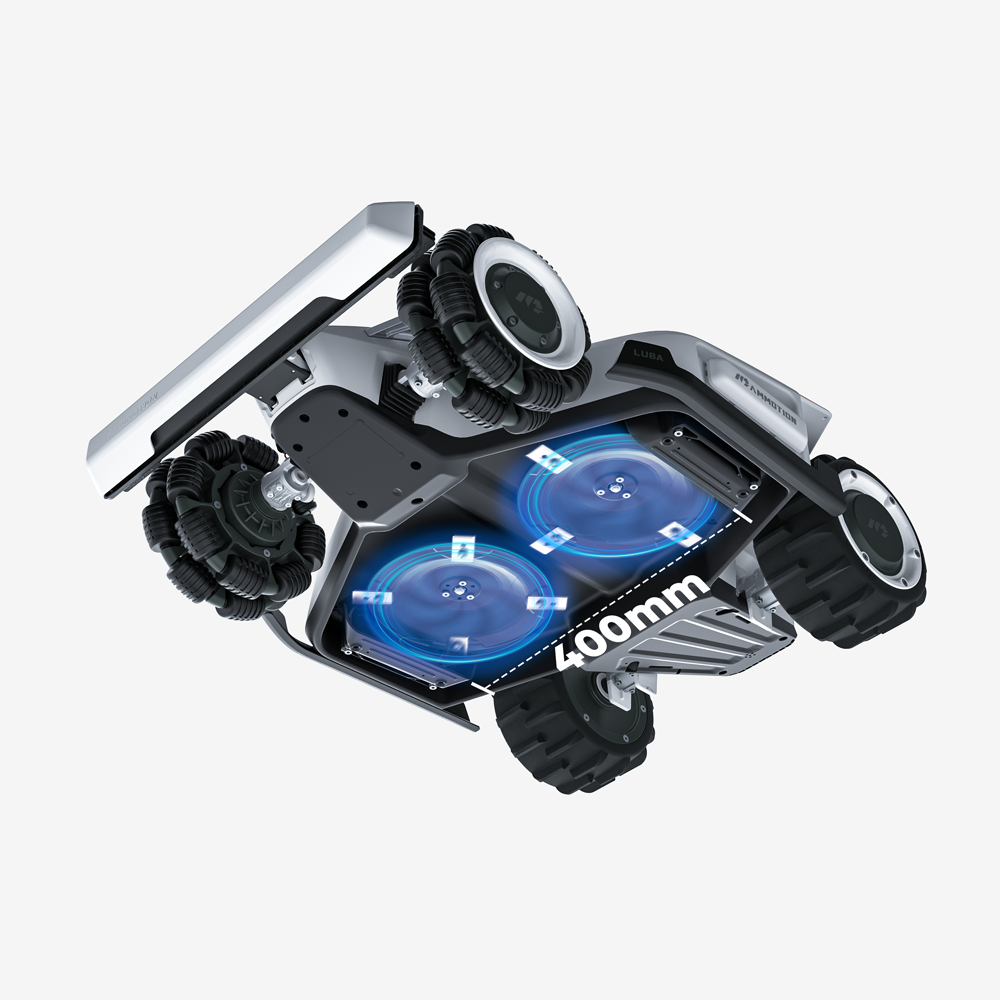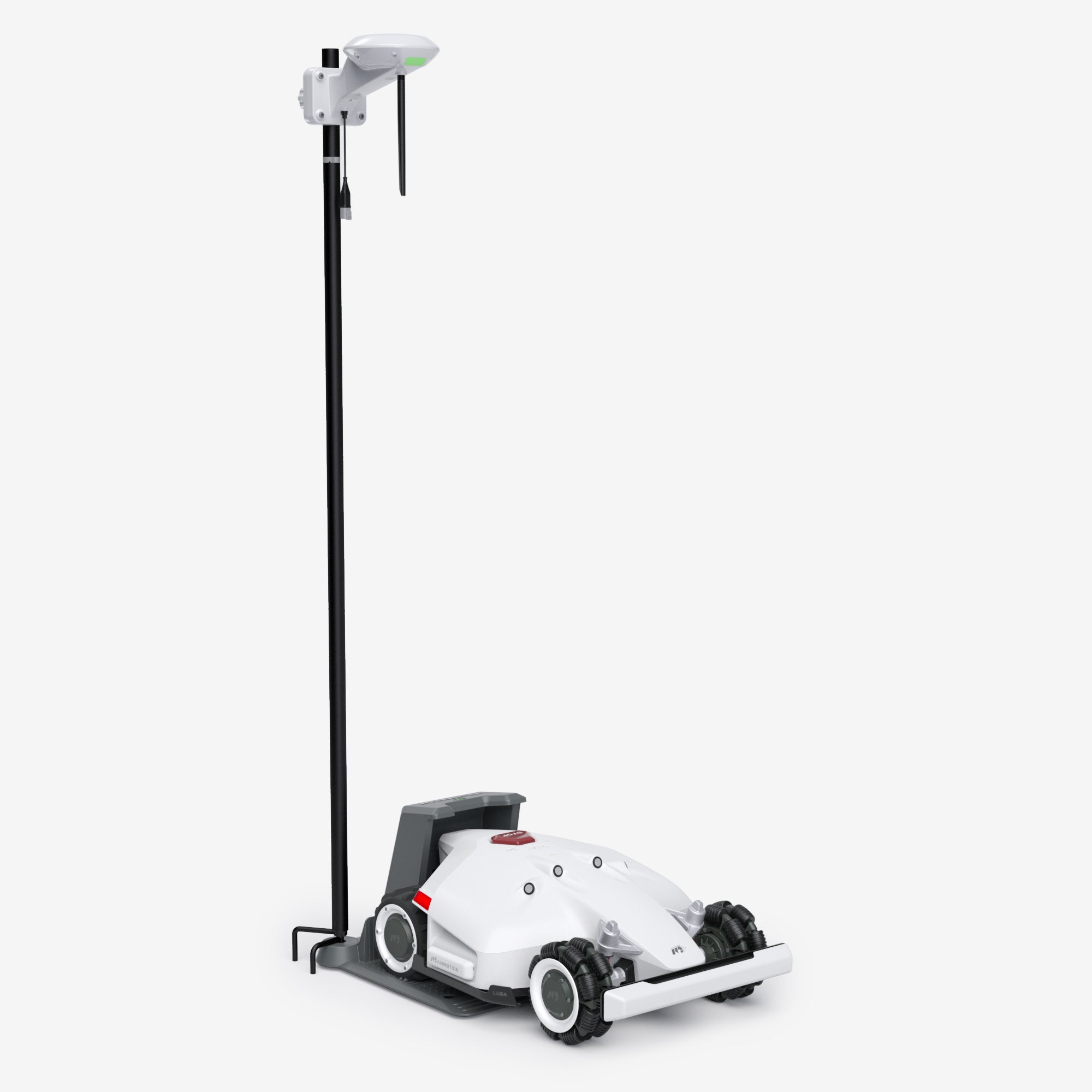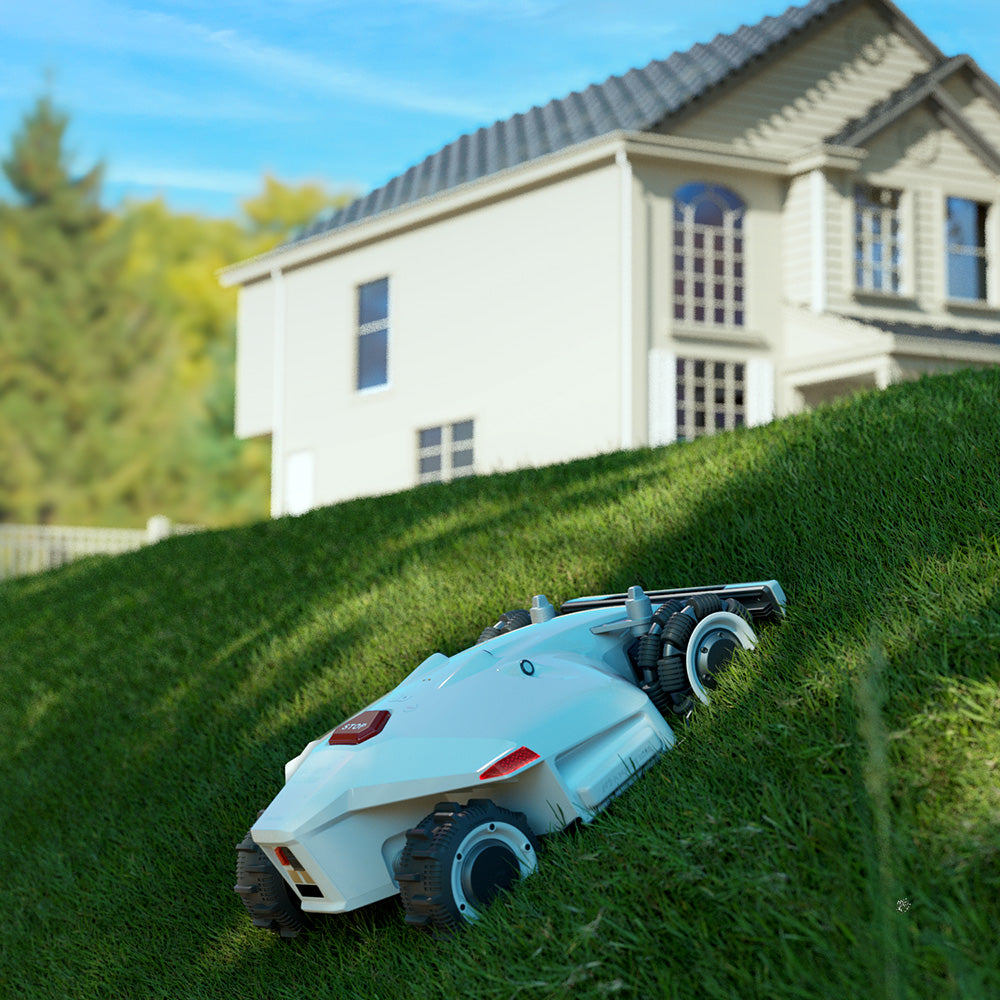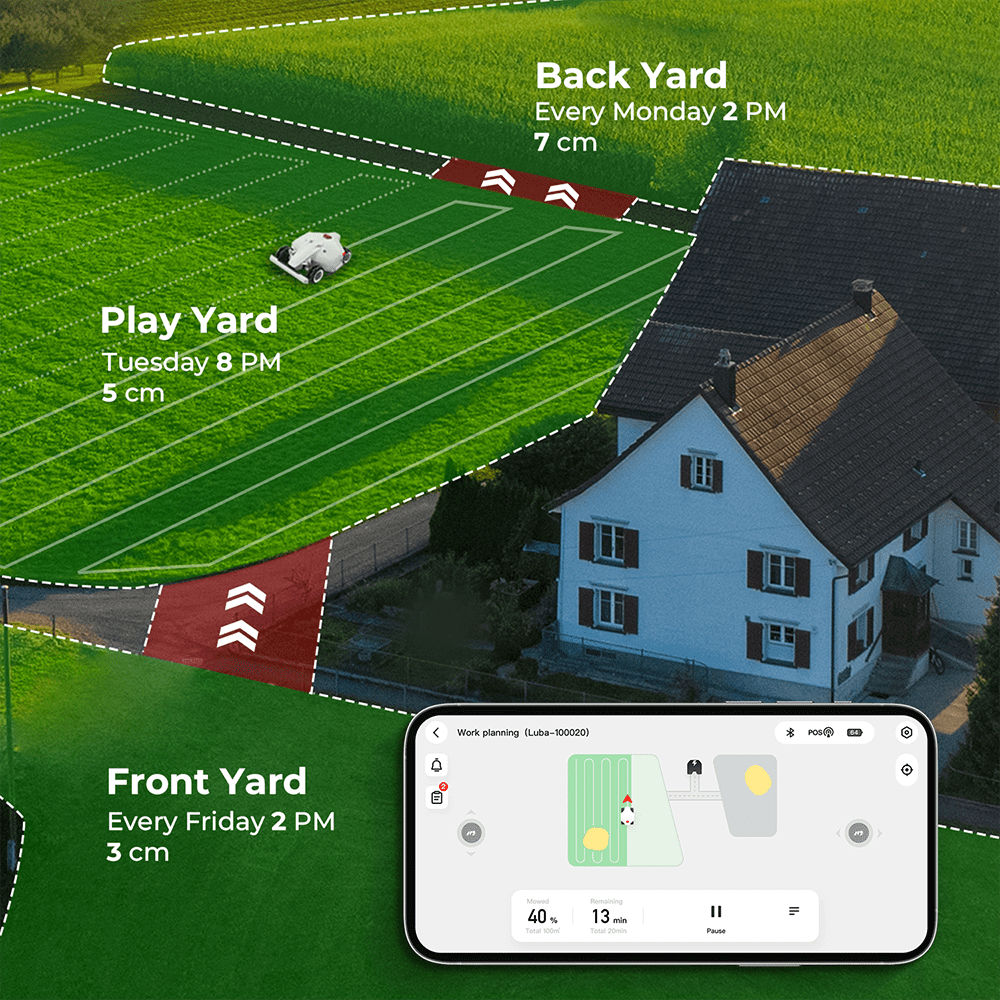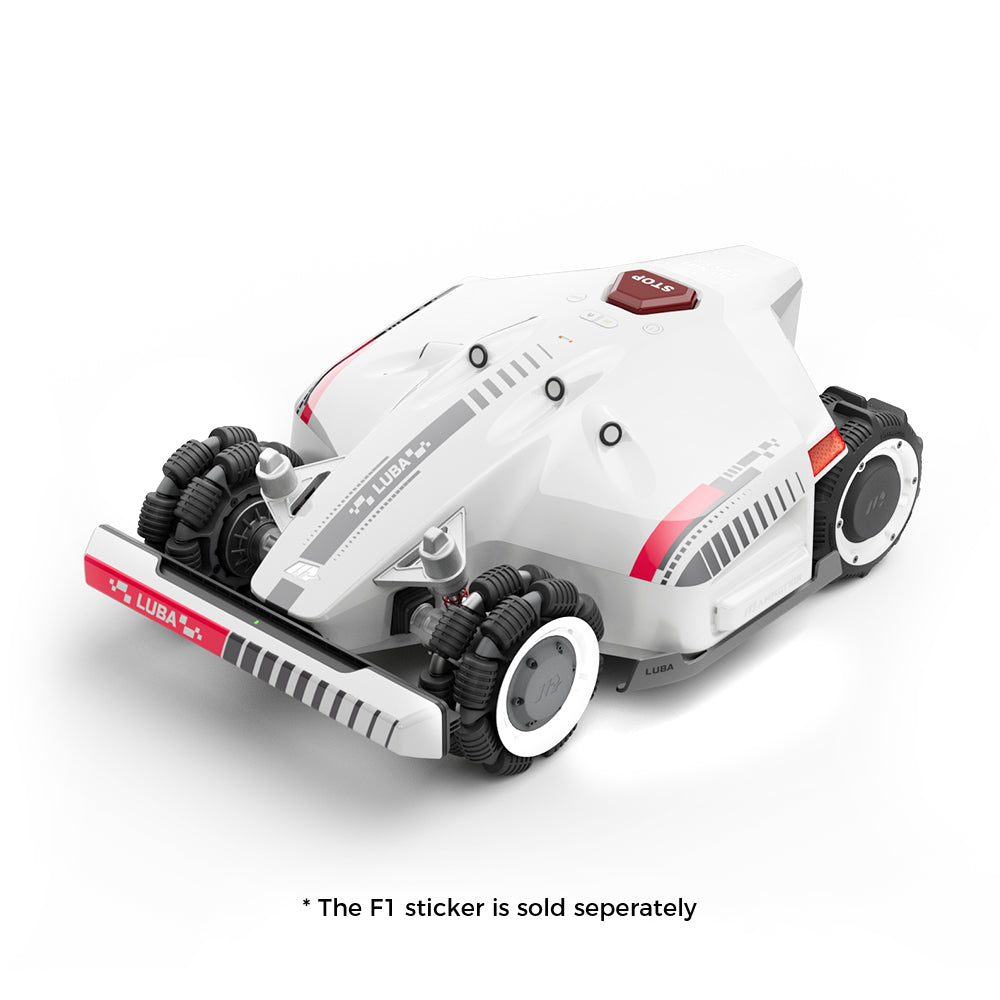 LUBA AWD 1000: Perimeter Wire Free Robot Lawn Mower
Quick Setup With No Perimeter Wires
Mow Lawn Up To 0.25 Acre( 350㎡/h)
All-Wheel Drive For 65% Slope(33°)
In-App Multi-Zone Management
Obstacle Avoidance & Auto-Recharge
App Control Anywhere
---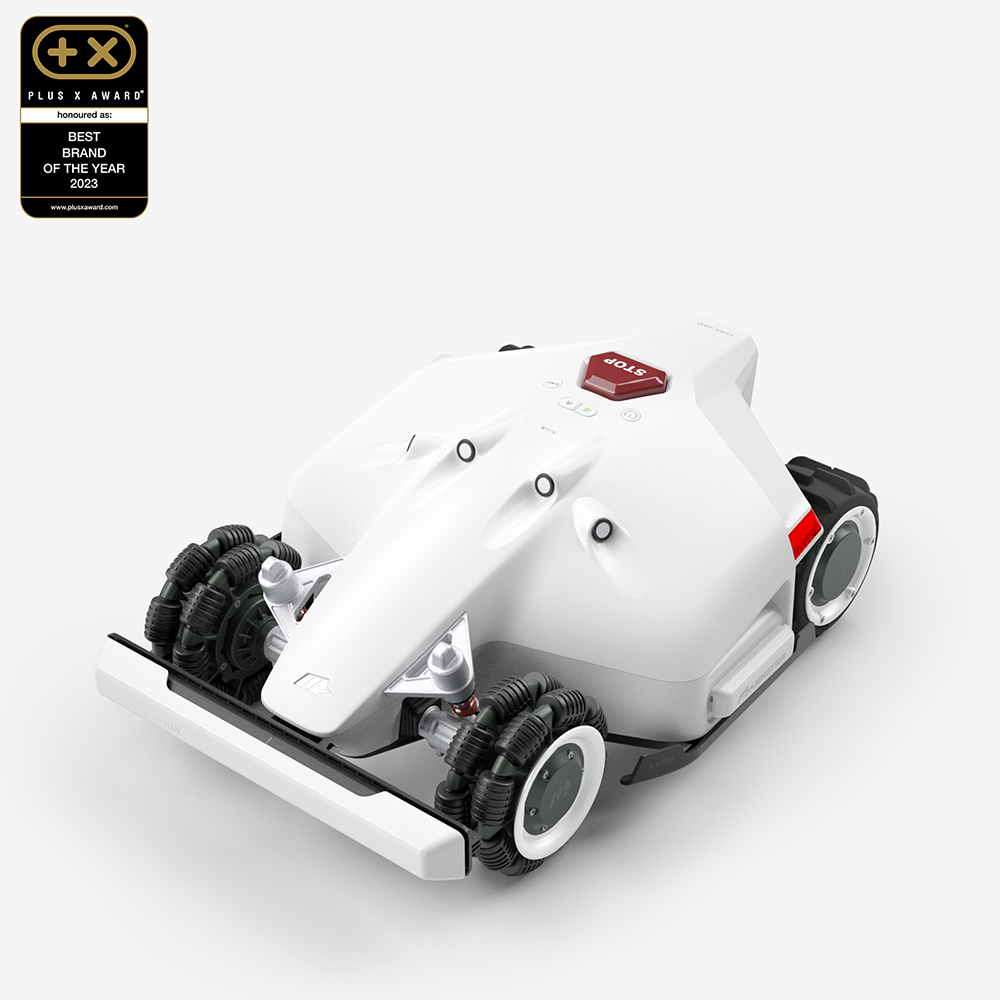 Quick Setup with No Perimeter Wire
Using the RTK-GNSS and Multi-sensor integrated Navigation System, LUBA AWD can map out your lawn and set up various mowing zones without you having to dig or bury wires. LUBA AWD makes the lawn maintenance a breeze for you.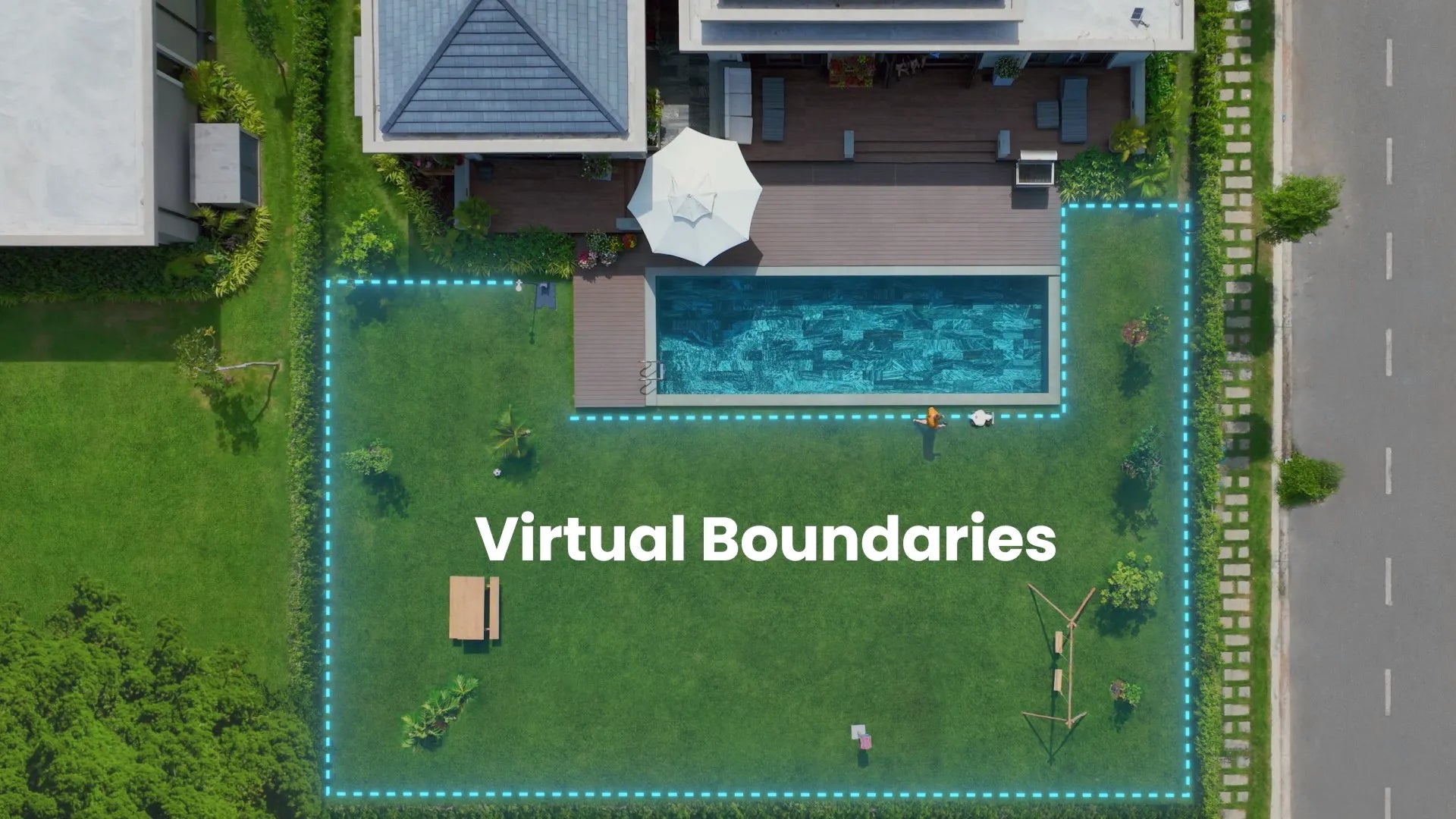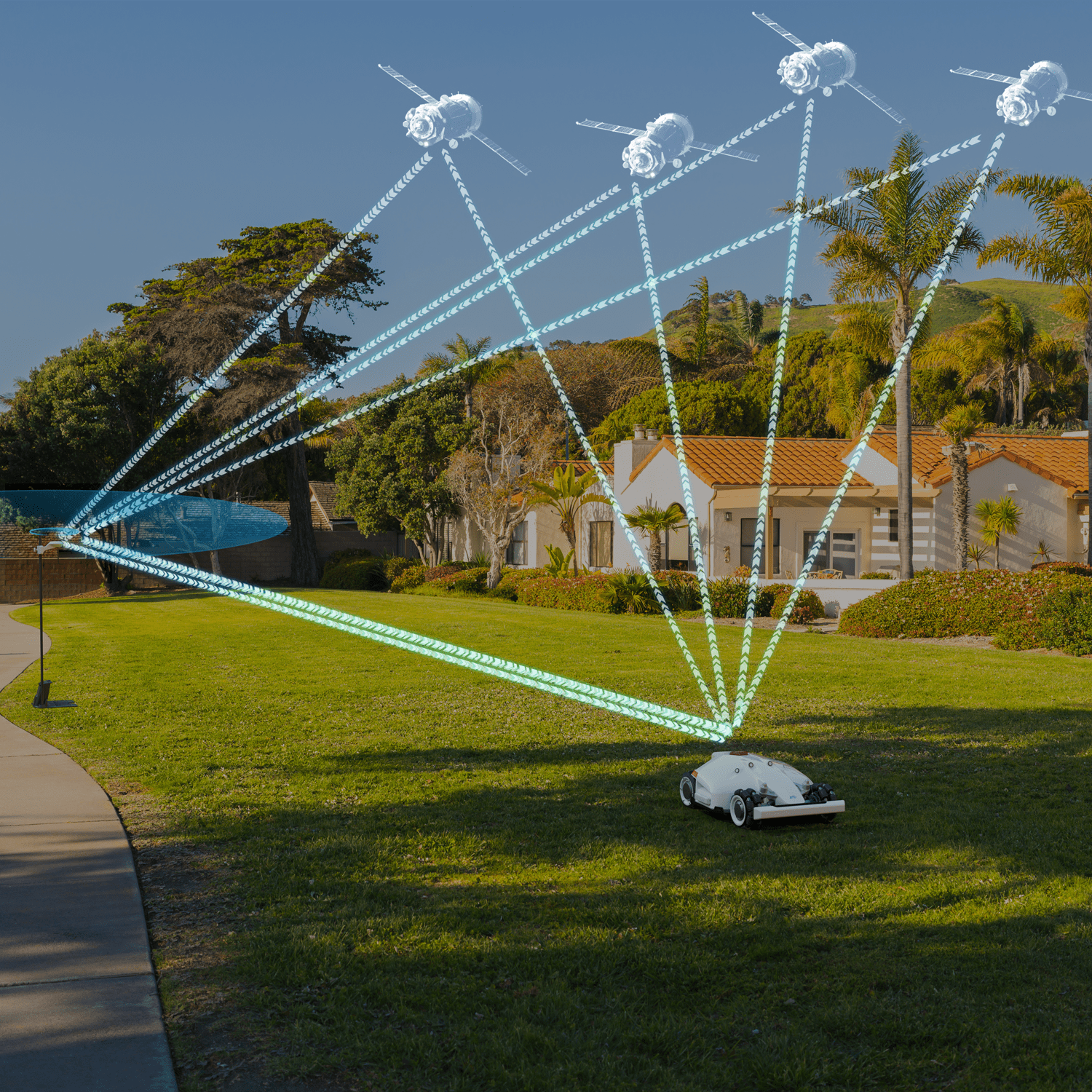 RTK-GNSS and Multi-Sensor Navigation System
With the advanced four Global Navigation Satellite System (GNSS) and RTK Technology and IMU sensors, LUBA can map and navigate in cm-level accuracy.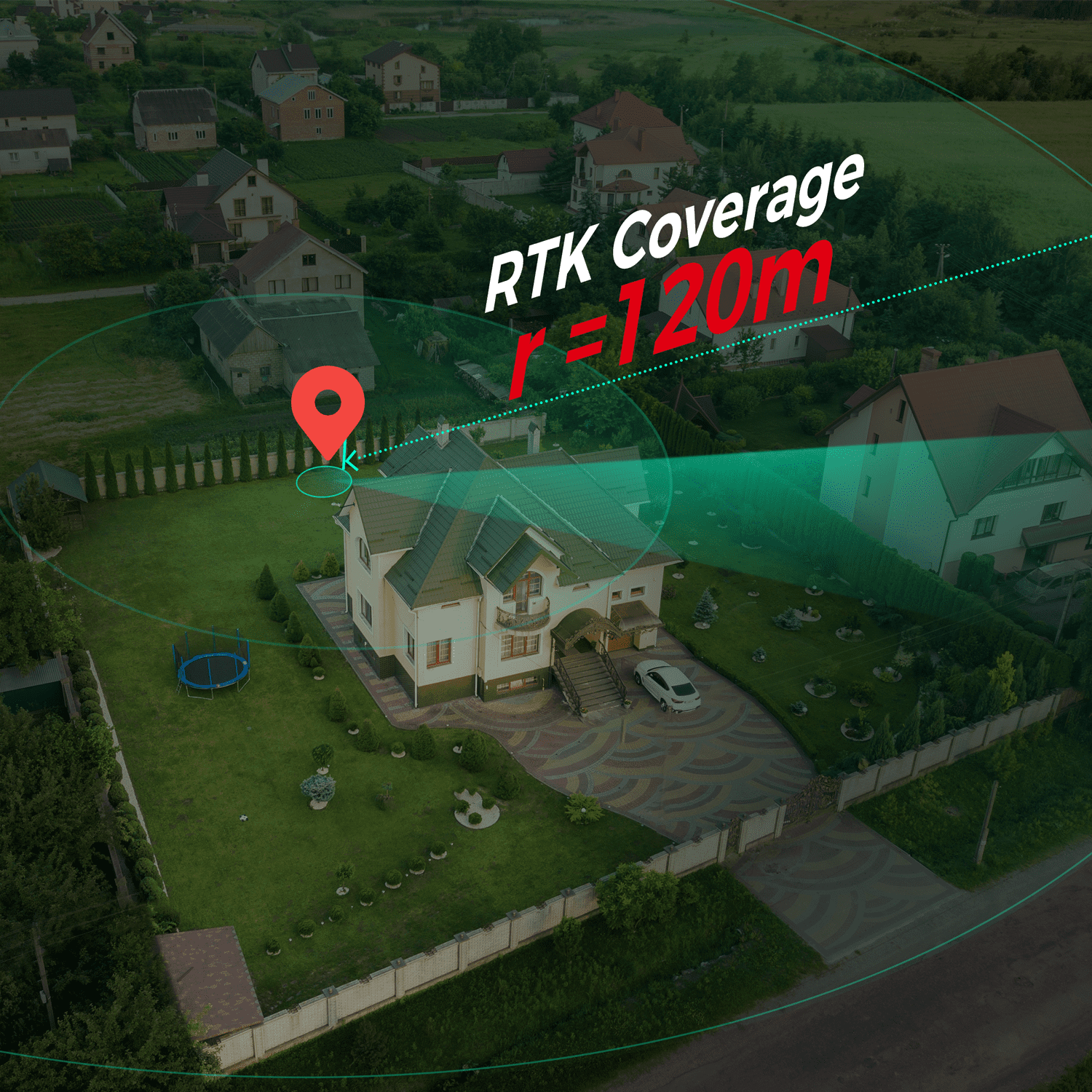 Powerful RTK Signal Coverage
LUBA RTK signal range can cover a radius of 120m, so LUBA can take care of even large and challenging lawns. The LUBA AWD series maintain perfect route stability even when satellite signals are poor thanks to the integration of interial navigation, odometry, and patented algorithms.
Powerful All-wheel Drive System
Featuring four powerful in-hub motors and exclusive off-road tires and suspensions, LUBA AWD Series boasts best-in-class traction and zero-turning agility. Unlike small-diameter wheel mowers, the LUBA can effortlessly handle 65% slope and traverse the most demanding terrain without getting stuck.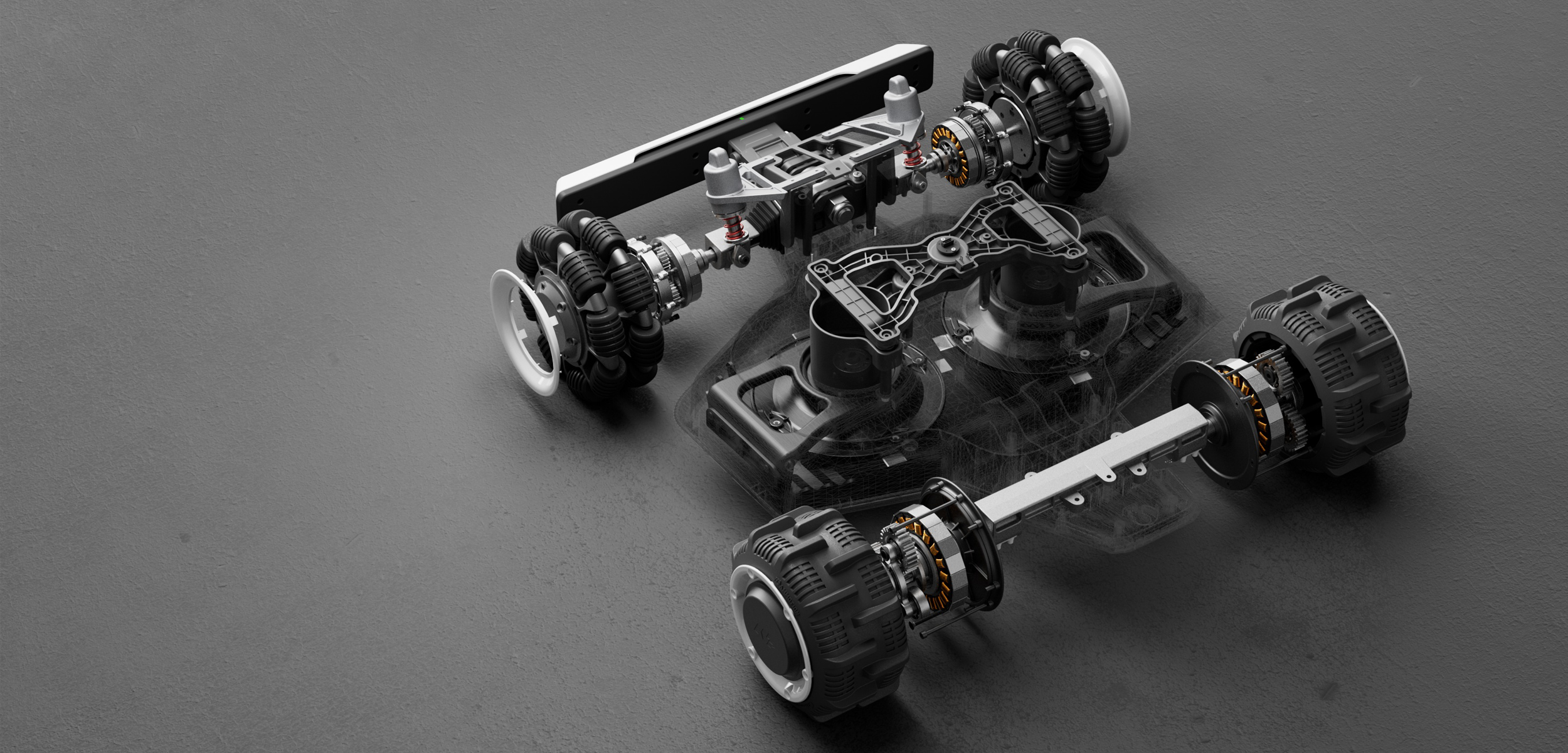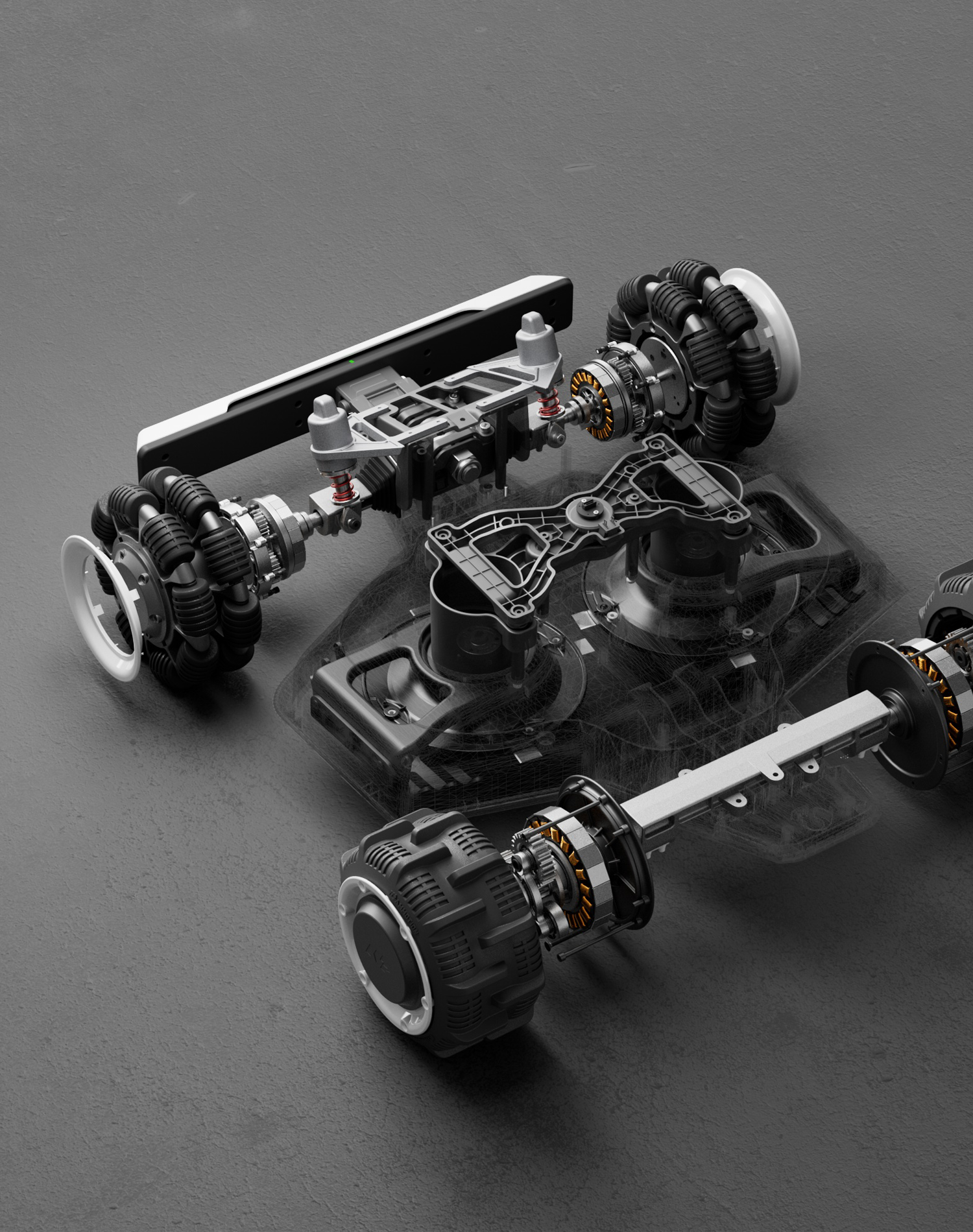 Anti-vibration Suspension
Take good and soft care of your lawn
Four Powerful In-hub Motors
Manage 33° steep slope and obstacle of 50mm height
Front Omnidirectional Wheels
Unparalleled mobility and agility without getting stuck
Rear Off-road Tires
Make the best off-road capability in rough terrain
Dual Cutting Plates of 400mm
In-app adjustable cutting height of 30-70mm. Never miss a cut.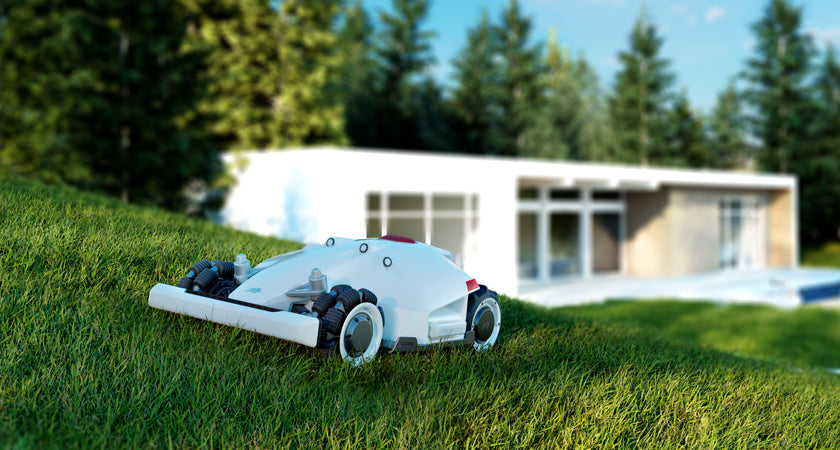 Impressive Slope Mowing
LUBA AWD 1000 can mow the steep slope up to 65% (33°), and handle the complex lawns and thick tall grass.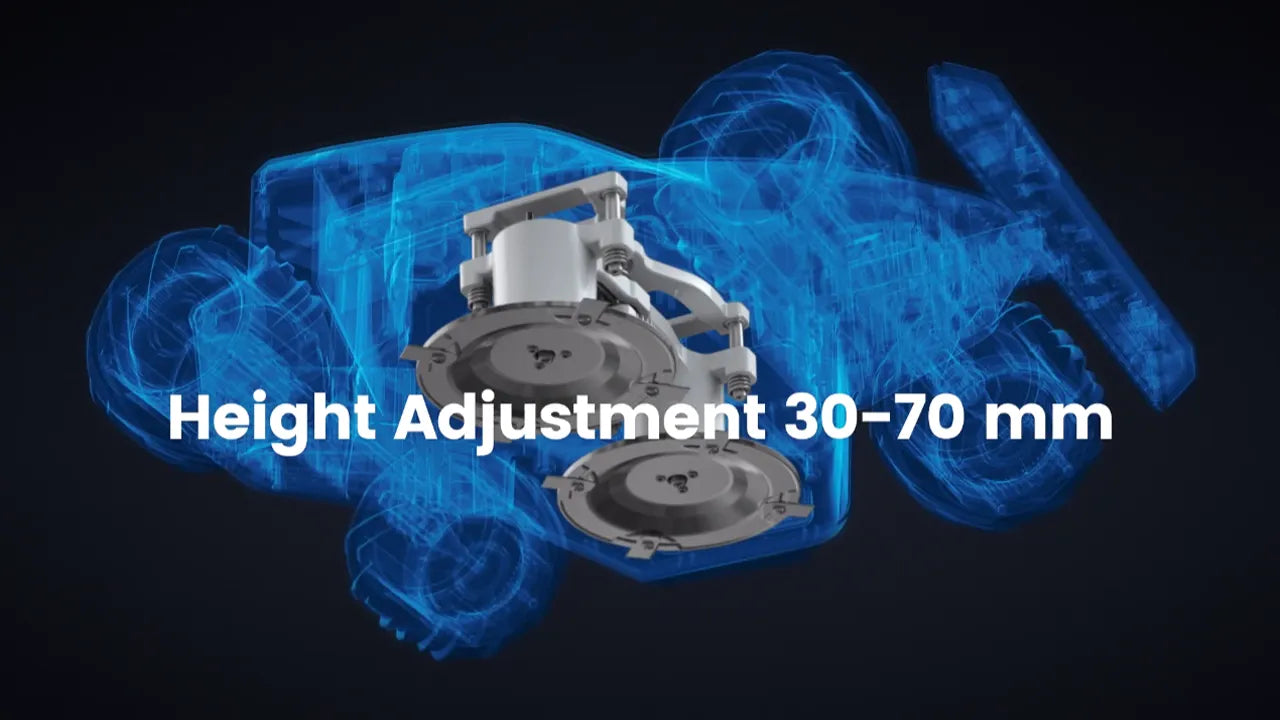 In-APP Adjustable Blade Height
LUBA AWD's double cutting plate with a 400mm(16 inch) cutting width allows it to cut your grass without missing any areas.
Versatile For All Lawns
LUBA AWD 1000 is ideal for all types of lawns up to 1000㎡(0.25acre). It has a super high efficiency of mowing up to 350㎡(0.09acre) each hour, allowing your family to spend more time enjoying the picture-perfect grass.
Smart App Control Anywhere
With the Mammotion App, lawn care has never been easier.You can customize mowing tasks, and track real-time mowing status anywhere, anytime. Enjoy your vacation and Luba will take good care of your lawn.
Set/Adjust Schedule
Check Mower Status
Set Cutting Height & Mowing Modes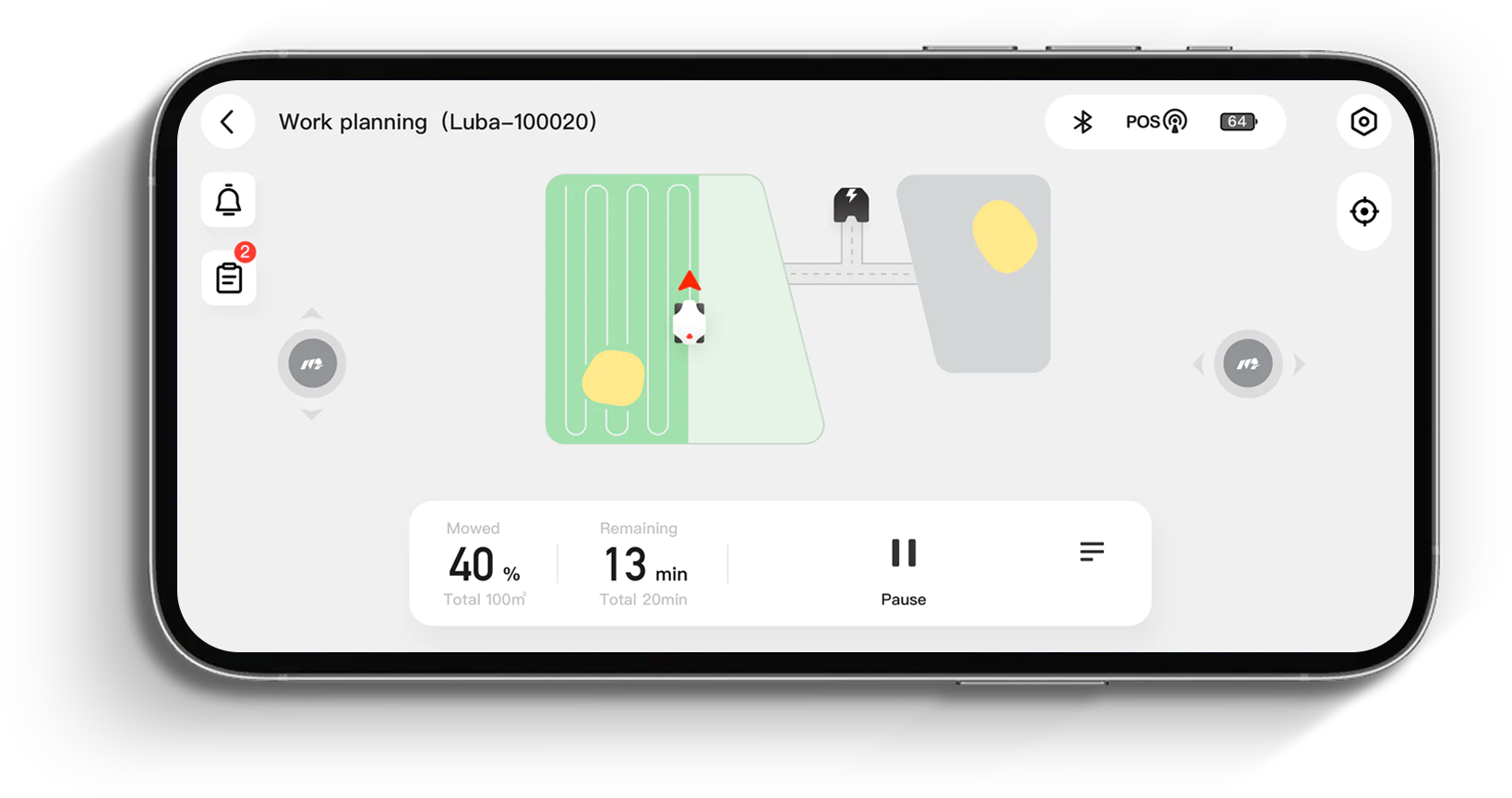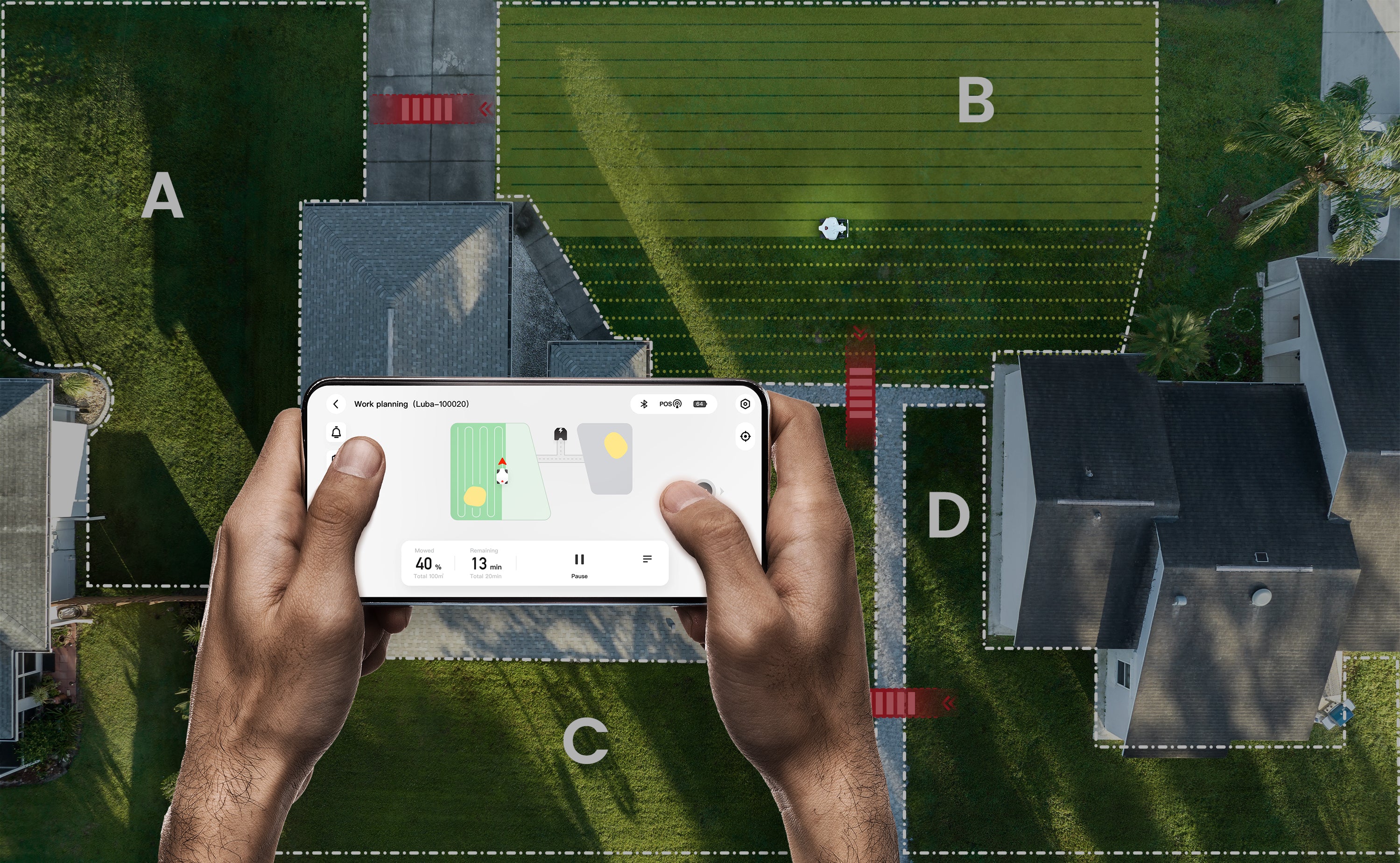 Efficient Multi-Zone Management
With the Mammotion App, You can easily set up mowing tasks for multiple working areas, and create channels between them. Set different schedules, cutting modes and cutting heights for each mowing zone.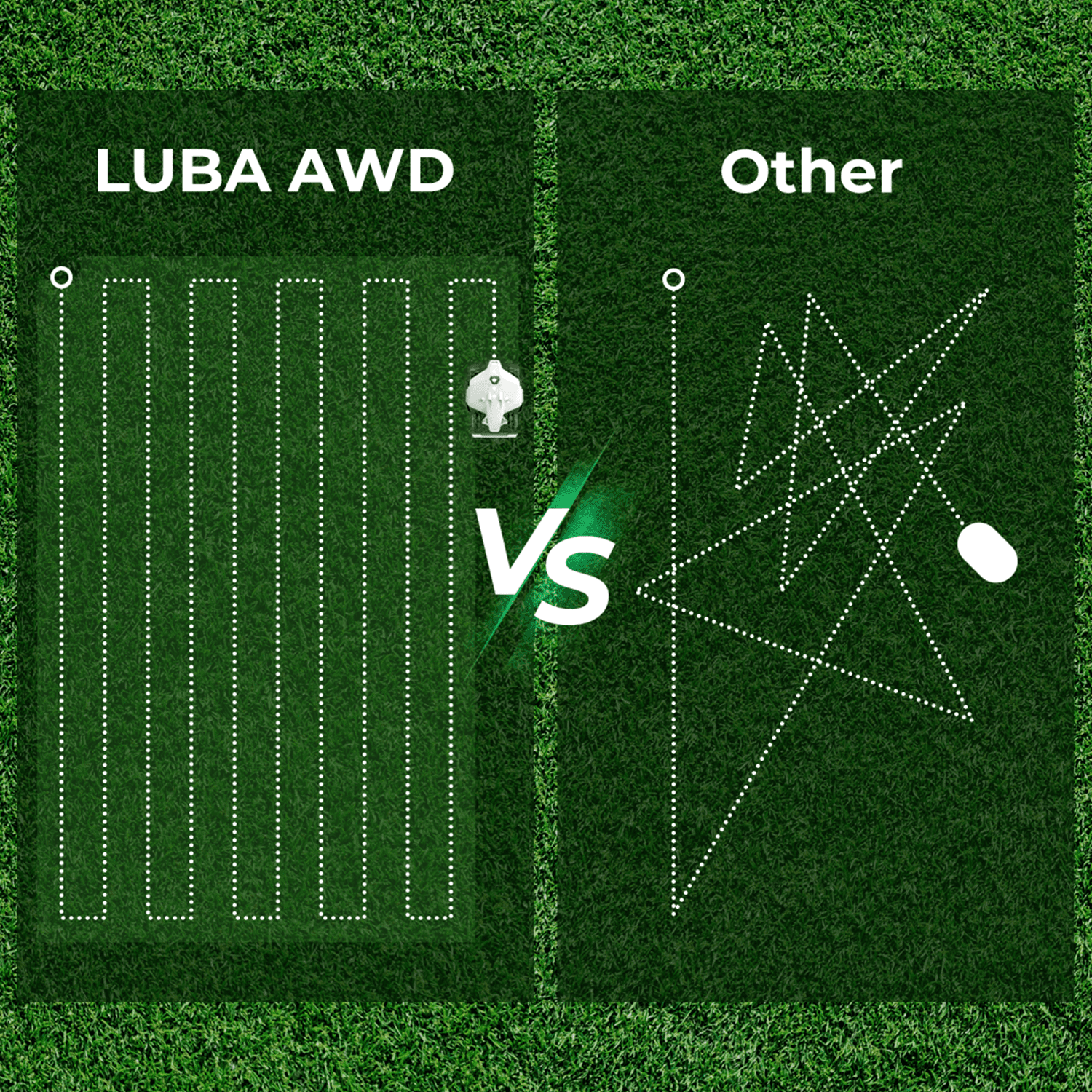 Planned Route Modes
Compared to the random mowing pattern of conventional robotic mowers, the planned route algorithm significantly improves Luba's mowing efficiency. You can have it mow one direction then the other, or define angles to mow.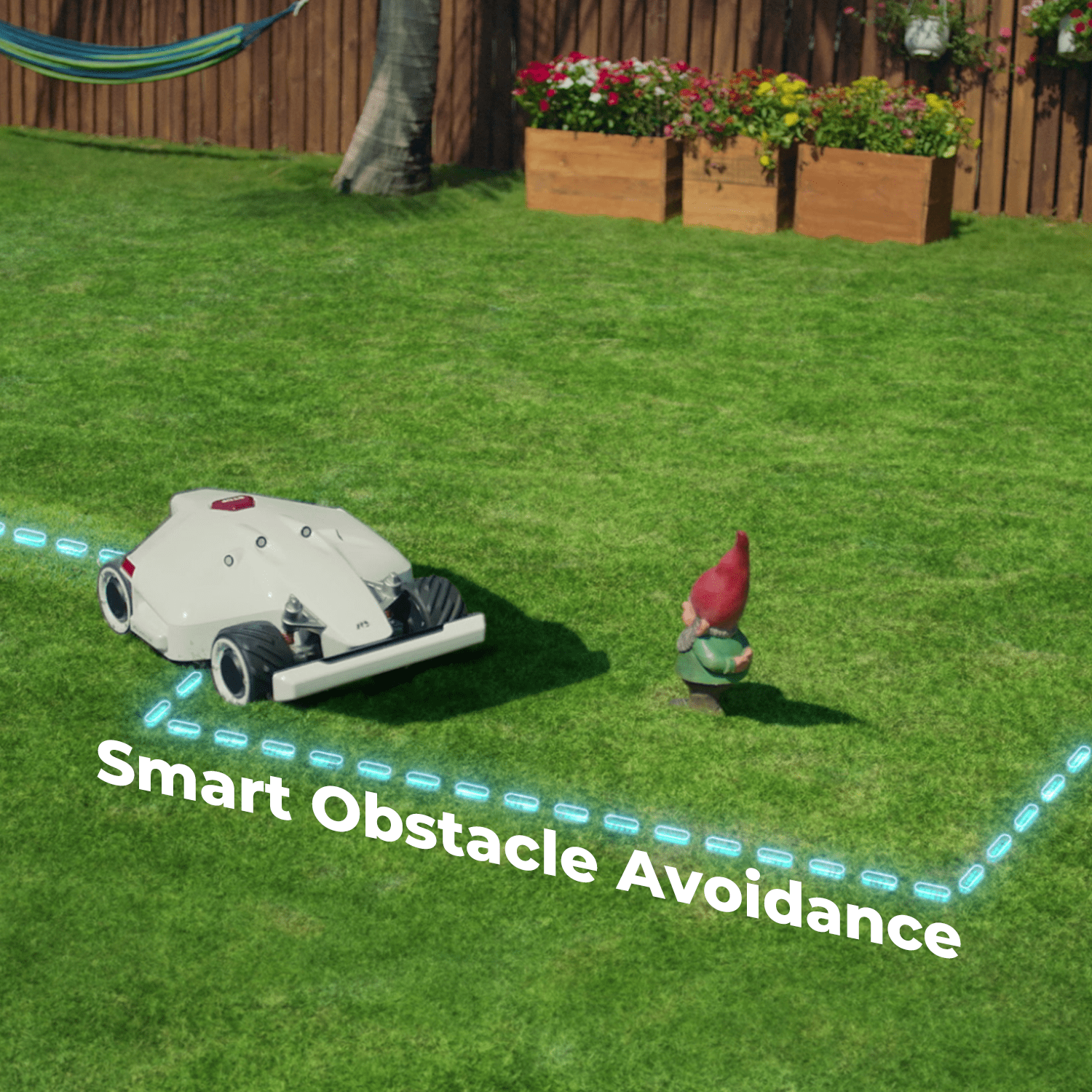 Smart Obstacle Avoidance
Four ultrasonic radar sensors allow the LUBA to automatically detect and avoid obstacles as small as 5cm (2 inches) with a Field of view (FOV) of 220 degrees.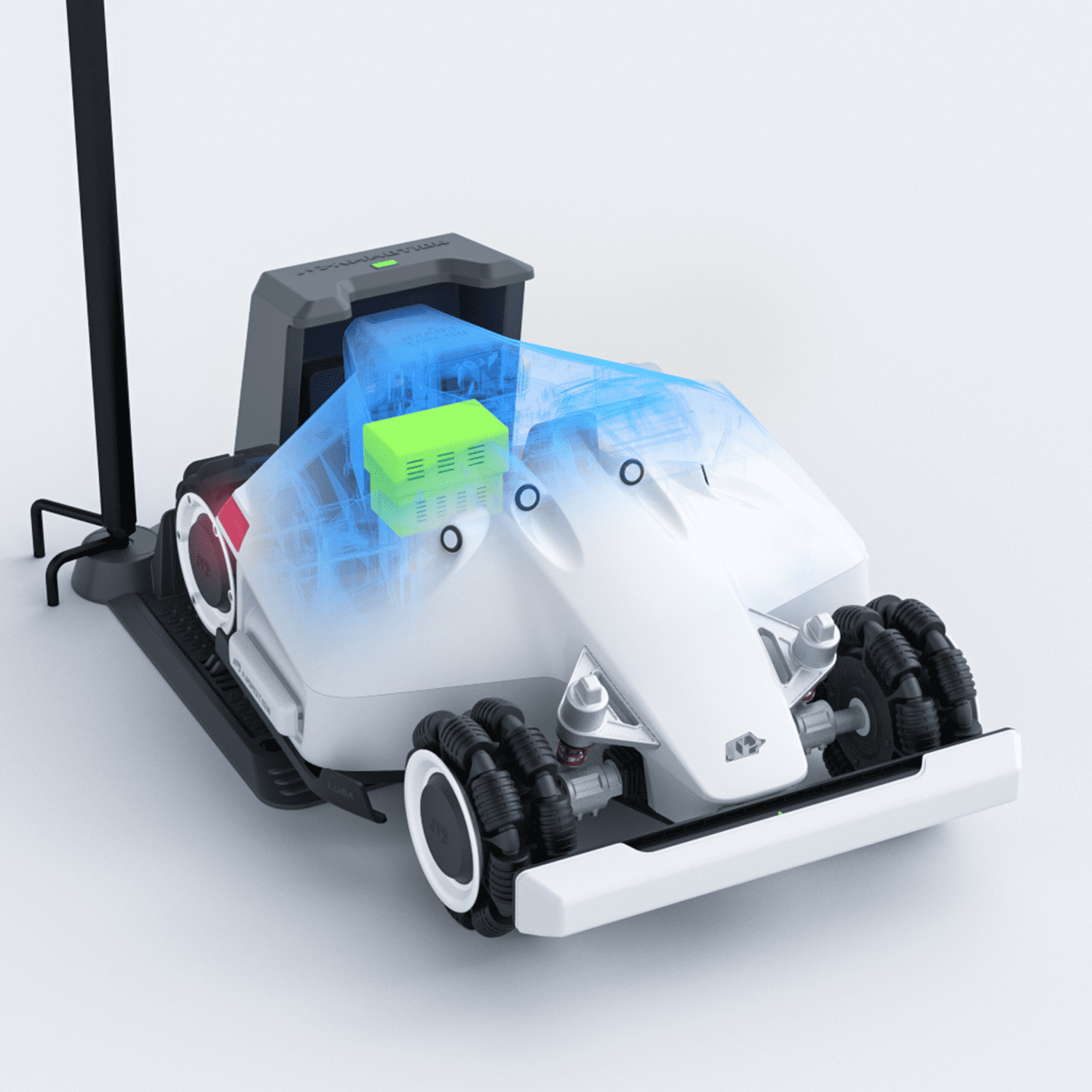 Powerful Battery & Auto-recharge
Luba lithium-ion battery has enough capacity to enable Luba to run 120 minutes and to mow up to 350㎡ (0.09 acre) per hour in a session. When the battery is low, it automatically returns to the charging dock, then continues the interrupted mowing session.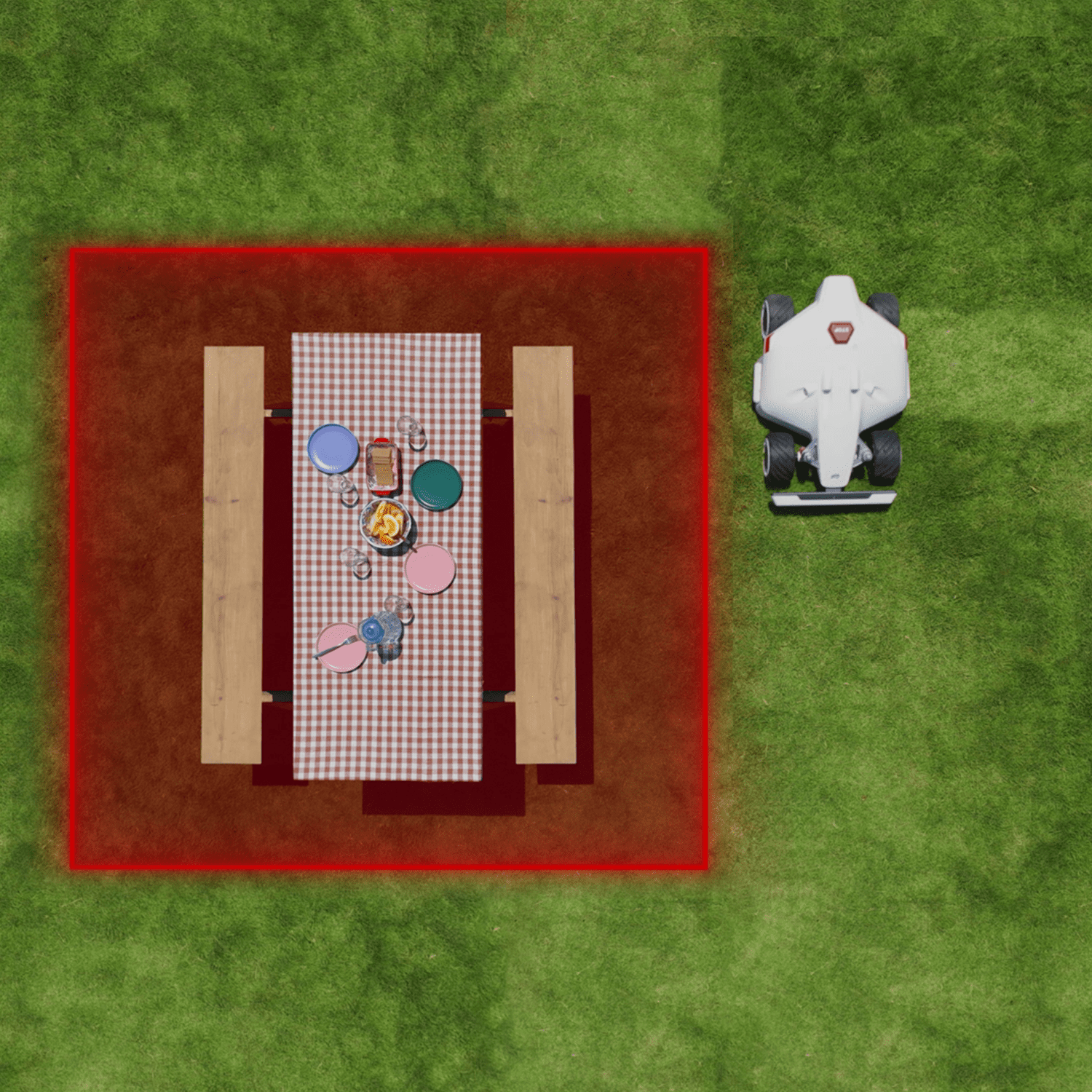 Easily Create No-go Zones
You can create no-go zones for plant beds or children's playgrounds or pools in App, Luba AWD will automatically avoid them.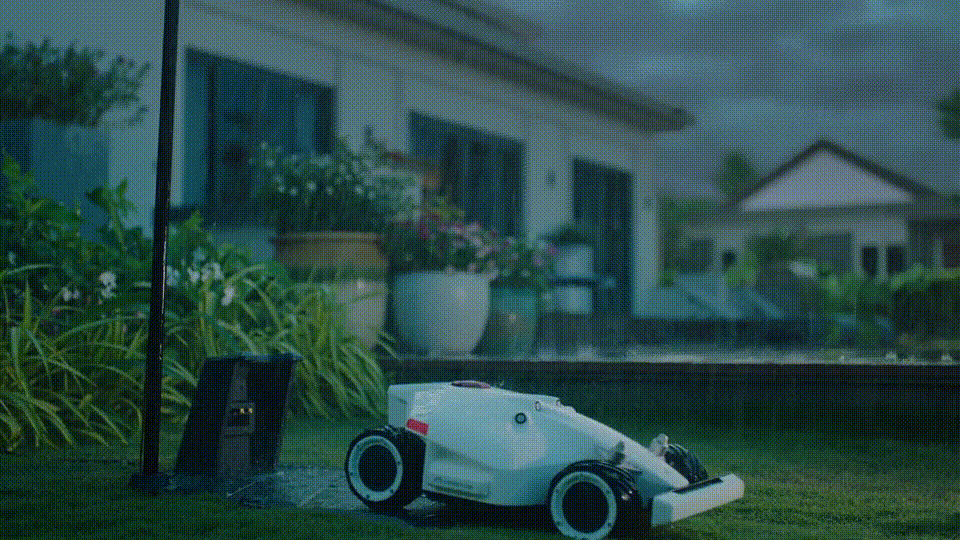 Automatic Rain Detection
Tiny sensors atop the Luba robot can detect when rain begins and will automatically send the mower back to the charging station.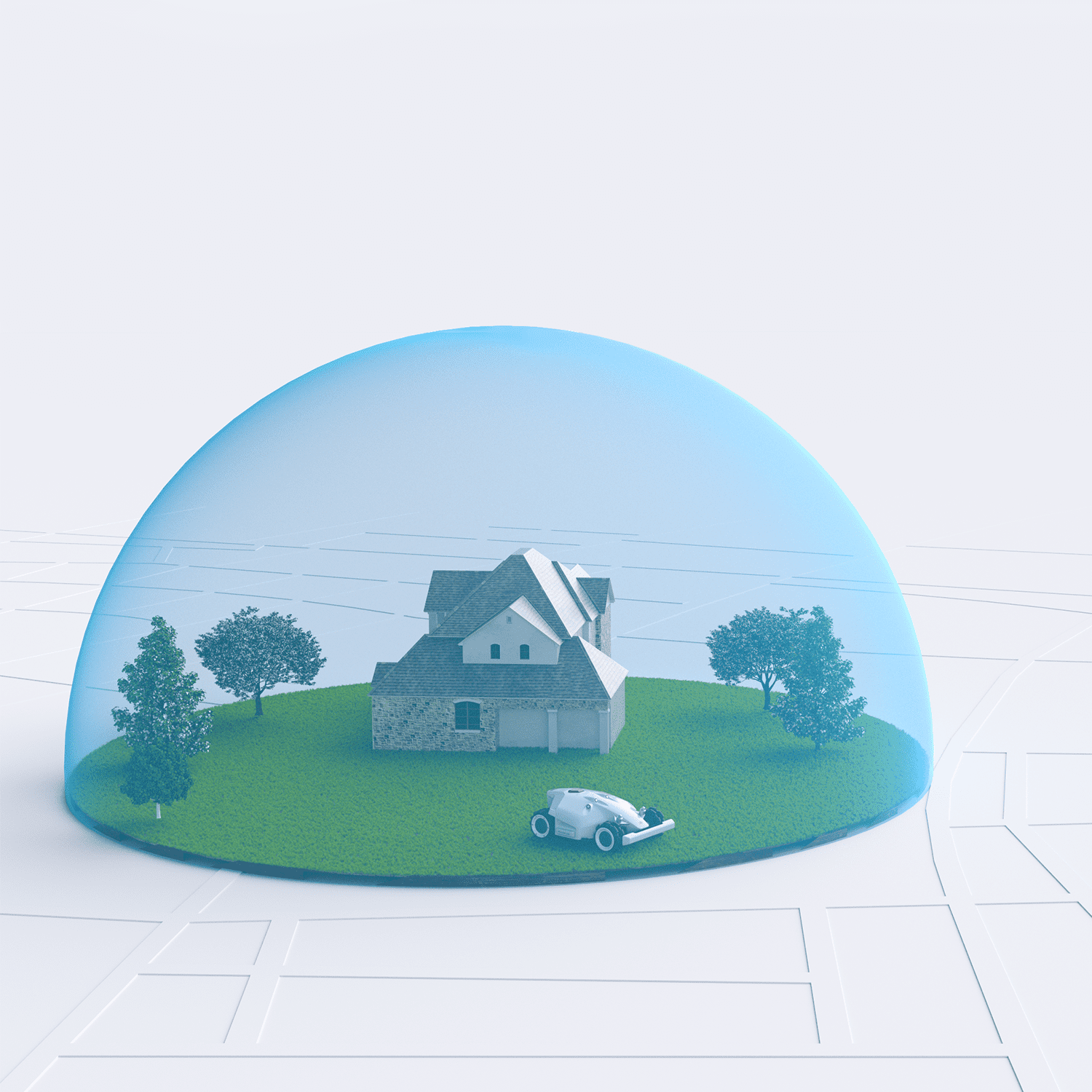 Anti-theft System
The app will sound an alarm to notify users when there is unusual movement. Luba supports the "lost" feature. The original user will be informed of the current position of the lost LUBA when it reconnects to the network. LUBA cannot be used by others if the original user has not granted permission.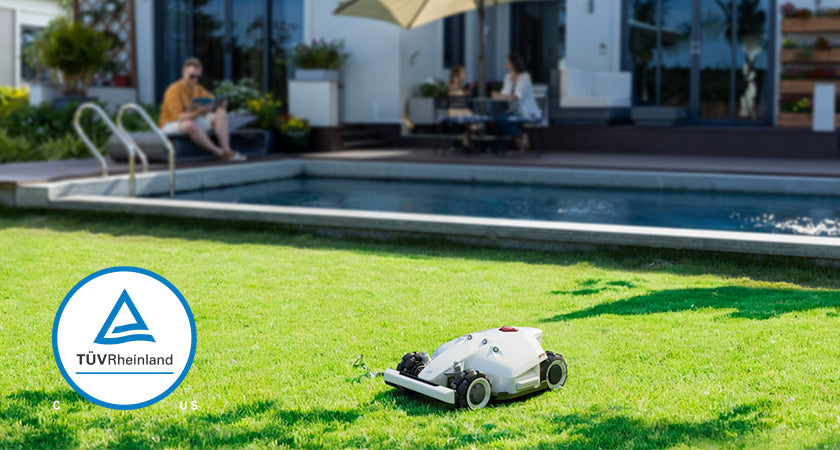 TüV Rheinland-certified Quality
The LUBA AWD Series robot lawn mower is committed to providing high-quality performance with TüV Rheinland-certified quality. LUBA provides a quiet mowing experience (<60dB) and emissions-free lifestyle.
What Our Users Say
@Robin Leatherbarrow
Luba does incredibly well on what is quite a difficult terrain. It is amazingly well built and as you can see, even manages to produce stripes.
@Chenio Miele
I was really amazed at how he can mow really tall grass... Tried with a 700 m2 map, the result was outstanding.
@Lawrence Van Der Helm
I am super impressed so far! My rideon mower would have gotten stuck! Hats off to the Mammotion team! Great product.
@Kobus van der Linde
Here LUBA is running on a hill where the slope varies between 15 and 35 degree.
@Tom Severini
It is doing a surprisingly great job. It cut the whole front lawn today with no interventions. It has every potential to be the leading fully automated lawnmower.
@Pastore Paolo
The 4 motors on every wheel have proven super useful. In my first trial, the machine hasn't had any failures and the GPS position seems to be very accurate, even near the house.
Tech-art Aesthetics and Robust Safety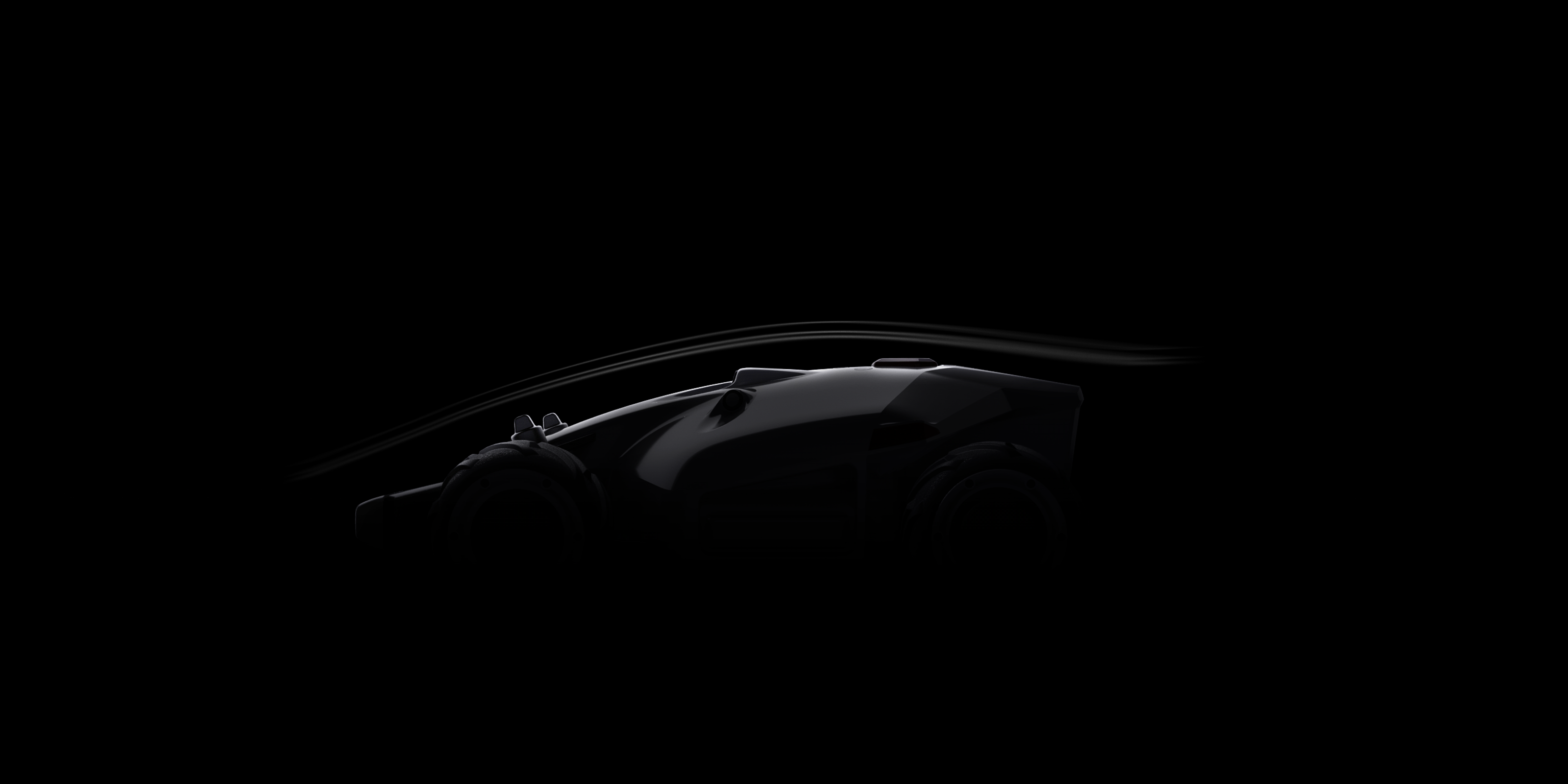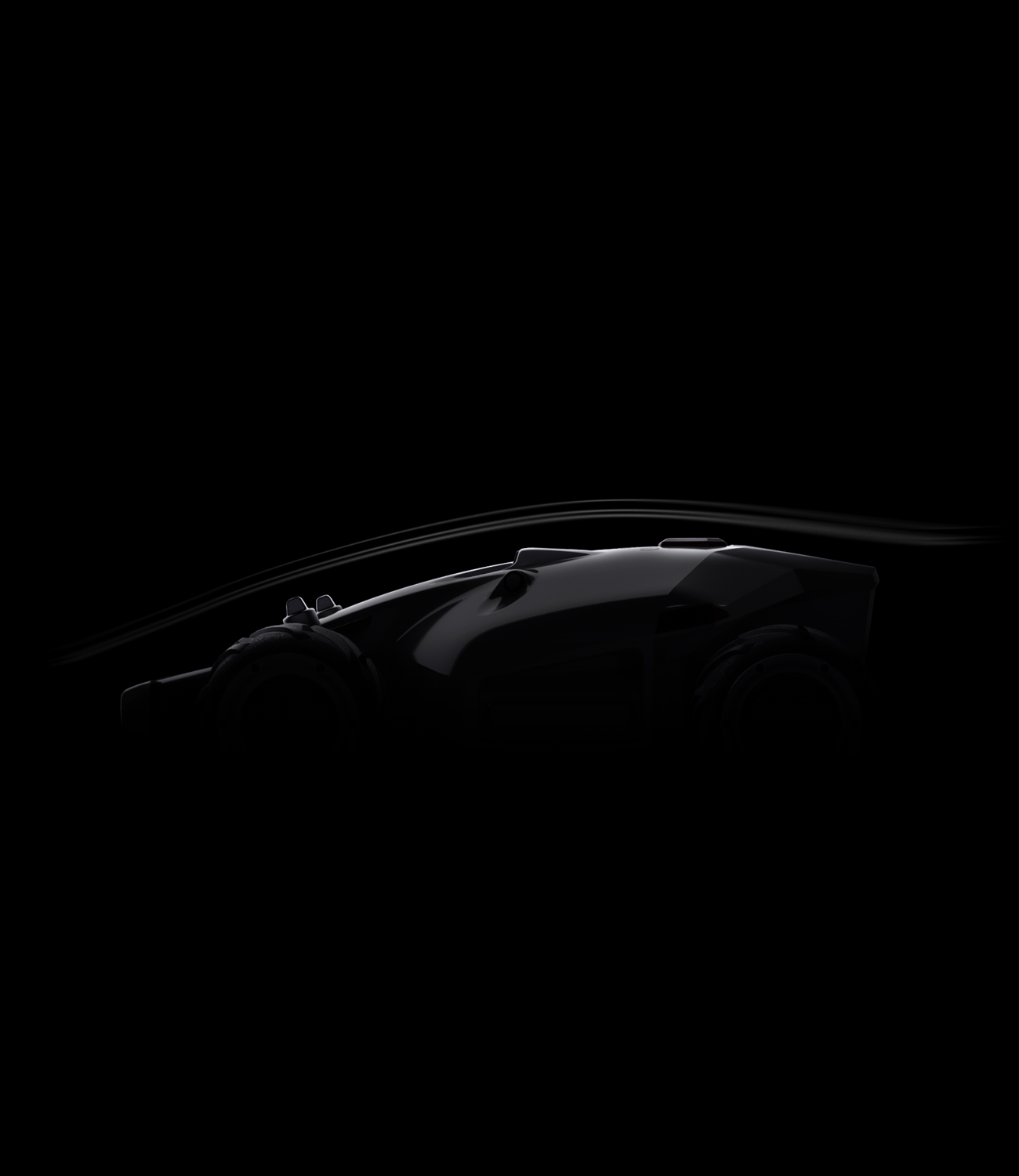 Front Bumper
Mowing in another direction when encountering hard objects.
Lift/Tilt Sensor
Stop spinning blades when Luba is lifted or unbalanced.
4 Ultrasonic Radars:
Smart obstacle avoidance with 220°FOV
IPX6 Waterproof
Ensure Luba AWD easy clean with sprinklers and has absolute durability in all-weather
What's in the box
Charging Station
LUBA AWD 1000
Power Supply
RTK Reference Station
RTK Reference Station Extension Cable(10m)
RTK Reference Station Power Supply
Extra One Set Of Blade
Key
Installation Kits
Mounting Pole
Quick Start Guide
Compare Product specification
In-App Area Storage Capacity
Area capacity per hour, max
In-App cutting height adjustment
Lithium-ion Battery Capacity
Mowing time on one charge
FIND YOUR ANSWERS HERE
FREQUENTLY ASKED QUESTIONS
What is the Luba Warranty and Repair Services?

If the product does not work as guaranteed during the warranty period, you can request after-sales service by contacting the upcoming local MAMMOTION distributor or email us at support@mammotion.com. The main parts of the lawn mower and battery are covered under a 2-year warranty. Please note that the accessories (Charging Station and RTK Antenna) are under a 1-year warranty while blades and tires do no have warranty. The warranty period for a product is valid on the day when product(s) are delivered from local warehouse for Kickstarter backers' orders and pre-orders, while the other orders is valid on the purchase date.
What are the benefits for MAMMOTION Perimeter Wire Free Robotic Lawn Mowers?

With a perimeter wire, firstly, someone has to install it – this means extra time if you do it yourself, or extra cost if someone else does it. Secondly, the perimeter wire can be damaged by animals or someone putting a spade through it - a break in the perimeter wire can be frustrating.Thirdly, if you want to change the area to be mowed, it means re-laying the wire. Finally, if you decide to move, you need to re-laying again the wire in your new lawn.
With Luba, forget all the above worries. You just walk with Luba along to draw vitrual bounderies, you can program your multi-cutting zones without the hassle of digging or burying the wires.
With Mammotion APP, you can remotely preset and update the mowing parameters for each zone, as well as check Luba's status in real-time. The APP can be used remotely to manage your lawn when you are on a vacation or business trip.
Luba robotic lawn mower keeps your lawn carpet-like all the time. Luba cuts more frequently in 1-2cm to ensure your grass stay healthy.
It is quiet, you can run it at any time without worrying about disturbing your daily activity or your neighbours.
Can Luba-Series handle multiple mowing zones?

Thanks to the RTK-GNSS System, users can easily create and set mowing tasks for separated mowing areas in the smart app , as well as set channels to connect them for multi-zone management. By setting up the operation parameters of different tasks, the equipment can automatically operate in multiple areas in sequence. Luba can pass the sidewalk when the width is more than 1 meter and surroundings are not severely blocked.
Does the RTK base station need to be connected to the charging station?

RTK base station does not need to be connected to the charging station. You can put the charging station anywhere you want! If you want to install RTK station on the roof, you will need to have a separate power adapter and extension cord to power RTK reference station.
Does the entire area needs to require WiFi signal or once it gets its command near its charging base it can go complete work and then come back to charge ?

Once the mission is set it get do the whole workflow itself even without WIFI. The WIFI is to help you check the status of LUBA and receive messages remotely on your cell phone.
You can easily perform the installation yourself. A quick start guide will be included in the box.More installation course video will comes.
What if my front and back yard are separated by a fence?

Luba can manage multiple zones,if there is a path between these two yards, Luba can travel to the second yard and do the work automatically.
Can the app be used remotely, for example when I am not at home?

With Mammotion App, you can remotely preset and update the mowing parameters for each zone, as well as check Luba's status in real-time.